Today we travel to a future where we make contact. What happens if we find aliens? What if they find us?
Guests:
Voice Actors
Further Reading: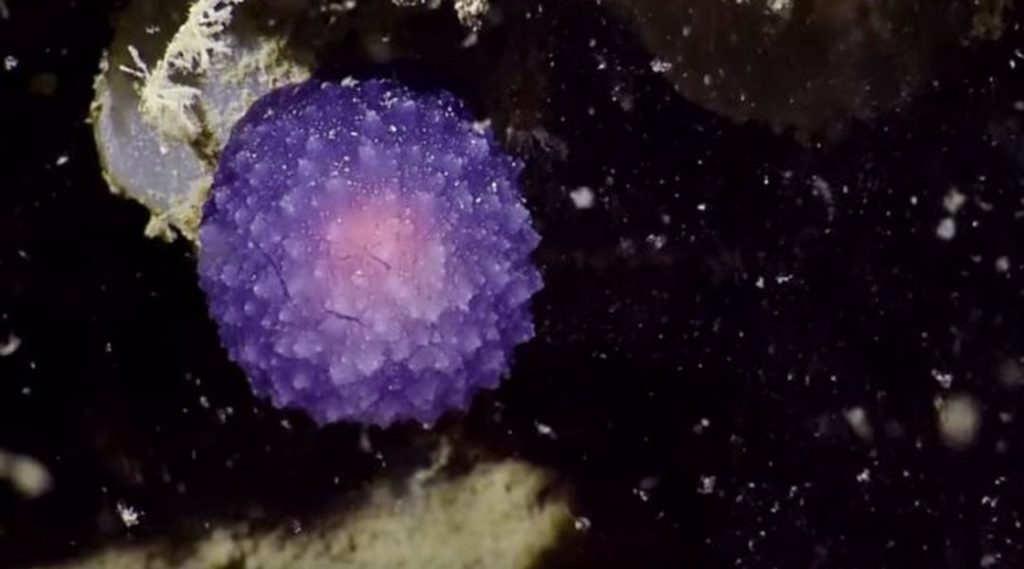 Episode Sponsors:
Flash Forward is hosted by Rose Eveleth and produced by Julia Llinas Goodman. The intro music is by Asura and the outtro music is by Hussalonia. The episode art is by Matt Lubchansky.
If you want to suggest a future we should take on, send us a note on Twitter, Facebook or by email at info@flashforwardpod.com. We love hearing your ideas! And if you think you've spotted one of the little references I've hidden in the episode, email us there too. If you're right, I'll send you something cool.
And if you want to support the show, there are a few ways you can do that too! Head to www.flashforwardpod.com/support for more about how to give. But if that's not in the cards for you, you can head to iTunes and leave us a nice review or just tell your friends about us. Those things really do help.
That's all for this future, come back next time and we'll travel to a new one. 
TRANSCRIPT
transcript by Emily White at The Wordary
FLASH FORWARD
S6E18 – "Is Anybody Out There?"
[Flash Forward intro music – "Whispering Through" by Asura, an electronic, rhythm-heavy piece]
ROSE EVELETH:
Hello and welcome to Flash Forward! I'm Rose and I'm your host. Flash Forward is a show about the future. Every episode we take on a specific possible, or sometimes not-so-possible future scenario. Got it? Great!
This episode we are starting in the year 2020.
FICTION SKETCH BEGINS
REPORTER 1:
Here's that extended forecast. Still dealing with that smoke, but again, for tomorrow, we're going to start seeing improving conditions, especially as we look through the rest of the workweek. Back to you.
REPORTER 2:
Scientists believe they've found signs of life on Venus. No aliens yet, but telescopes in Hawaii and Chile have identified what's being called the 'biosignature of life'. Venus is our nearest neighbor, a mere 143 million kilometers away. It's slightly smaller than Earth and has the longest day of any planet.
REPORTER 3:
Scientists have discovered phosphine gas in the clouds above Venus, the planet. They say that's significant because microbes on Earth produce that gas. This suggests that alien life is somehow surviving in the atmosphere of Venus, even though the planet's surface, from here, appears to be a wasteland.
So what does this mean, exactly? Nick Pope is a UFO expert. He's a former UK Ministry of Defence official, and we're happy to have him on tonight.
Nick, thanks for coming on. So, how should we respond to this?
NICK POPE:
Well, I would like to see the President talking to NASA and saying, "Let's do a flagship mission to Venus. Let's go and investigate, and maybe even, very carefully, take some samples from the atmosphere and bring it back." I mean, if there's alien life there, let's study it.
TV HOST 1:
That's right; alien life in the clouds of Venus! How many times have we said this, Reg? "Check the clouds of Venus! (audience laughter) Why aren't they checking the clouds of Venus for alien life?!"
REG:
Yes. Every show. Every show.
FICTION SKETCH END
ROSE:
Okay, so maybe you caught on and noticed that that is not actually from the future. In fact, the clips you just heard are from the past. Today, we're doing things a little bit differently. We are going to talk about aliens, and instead of starting with a trip to the future or to some faraway planet, we're actually going to spend the first bit of this episode in reality, in our own solar system. Then we're going to get to the far away future alien stuff, I promise.
But first, Venus. You might have seen headlines recently that claimed that scientists had found evidence of alien life in the atmosphere of Venus. Is that true? Well, it's complicated.
DR. CLARA SOUSA-SILVA:
We don't understand Venus and we've basically been ignoring it for a few decades now.
ROSE:
This is Dr. Clara Sousa-Silva, a quantum astrochemist at Harvard.
CLARA:
I use quantum chemistry, so kind of the tiniest tools of how things interact with light to understand phenomena in astronomy. And my main focus is using these quantum processes to try and identify molecules on alien atmospheres that may signify life.
ROSE:
So, light, as you may have learned in high school physics, is kind of a weird thing. It's a particle, and also a wave. And you also probably know, even if you did not pay attention in high school physics, that if you pass white light through a prism, you get a rainbow. And actually can do that, passing the light through a prism to break apart the different colors, with any kind of light.
CLARA:
And if you do that, for example, with starlight, you will see a rainbow, but there will be shadows on that rainbow. We call them absorption lines. And each one of these absorption lines corresponds to one atom or a molecule.
ROSE:
So what this means is that you can look at the light that passes through the atmosphere of a planet, and, if you know how, you can decode that light. Kind of like a little puzzle. And if you decode the puzzle, you can figure out which molecules are in the atmosphere of that planet. This technique can be used on planets relatively close by, like Venus, or planets that are really far away, called exoplanets.
MOIYA MCTIER:
An exoplanet, at its most basic level, is a planet outside of our solar system; a planet that doesn't orbit the sun.
ROSE:
This is Moiya McTier, an astrophysicist and soon-to-be PhD at Columbia University, who also hosts a podcast called Exolore, which you should definitely check out.
MOIYA:
Sometimes people say that exoplanets are planets that orbit other stars, but there are also rogue planets that aren't in our solar system and they don't orbit any stars. So, I like to broaden the definition a little bit.
ROSE (on call):
Wait. So they're just floating out there, doing their own thing?
MOIYA:
Yeah!
ROSE:
I did not know that! (laughs)
MOIYA:
Yeah, there are a bunch of them and it can happen in a lot of different ways. But you know, the planet will form around a star, and either a star flies by the system and rips the planet away, or one of the planets in the solar system migrates and just flings the planet out of the system. But either way, the planet leaves the solar system that it was born in and then it just kind of floats around the galaxy.
ROSE (Mono):
Anyway, you can apply the techniques Clara described, looking for signals of different molecules, on all kinds of planets, in all kinds of places, assuming you can see them with our telescopes. And you know how to decode the message, you know what pattern each molecule produces. The molecule that usually gets the most press, the one that scientists often look for, is water.
MOIYA:
And that is in part because we live on a planet that's covered in water. We are beings that are, you know, 70% water. So, water is pretty important to us, but we think that it's probably important to all life forms or most life forms in general because water is the universal solvent. If you put a bunch of stuff in water, that stuff is going to dissolve. So, it's going to break up into its component parts, and then that gives you an opportunity to mix those parts in new ways and form new compounds. And that's how we think life happened here on Earth.
ROSE:
But there are other molecules to be looking for too.
CLARA:
So I have no beef with water. I would love to find water on an exoplanet that is potentially habitable. Water is critical for life to exist, at least life that we know. But I spend a lot of time worrying about this aspect of looking for life that we know and how problematic that is, not just because it feels a bit selfish and narcissistic, but also because it will close so many potential opportunities. So, most of the time, I say, "Don't have a favorite molecule," but it's like saying, "Don't have a favorite child." You say you don't, but you totally do. And in my case, phosphine is my favorite molecule.
ROSE:
Phosphine is a deceptively simple molecule. PH3, one phosphorus, three hydrogens. But don't be fooled. There is far more to phosphine than meets the eye.
CLARA:
So it's not my favorite to hang out with because it's disgusting, and extremely lethal, and also highly flammable. It's just a horrible, horrible molecule all around.
ROSE:
But Clara argues that, even though it might be toxic, and flammable, and horrible, it could also be a biosignature.
CLARA:
So, a biosignature is just one that is produced by life. But that does mean it's a good biosignature because a good biosignature is not just produced by life, but it can accumulate in an atmosphere to a point where we can detect it.
ROSE:
Lots of things are biosignatures, like oxygen for example.
CLARA:
Lovely biosignatures in many ways. But if we detect them on an alien planet, it could mean life or it can mean a thousand other things because these are molecules that can be produced accidentally by a planet just going about its business with no life on it.
ROSE:
Phosphine, on the other hand, is actually quite energetically challenging to make. Which means that sometimes, if you find phosphine, it might be coming from life. Possibly via farts. And a couple of years ago, Clara wrote a paper arguing that if scientists were to find phosphine in the atmosphere of a planet, they should seriously consider it as a biosignature.
CLARA:
And I submitted it. No problem. I mean, no one cared of course because this was just totally hypothetical. But it wasn't controversial as a claim, except a few months after I submitted this paper, I got a weird email from Jane Greaves, who's an astronomer at Cardiff, saying, "I think we found Phosphine on Venus. Is that weird? I think it's weird." And I said, "Yeah, very weird. Are you sure?" Because either I'm very wrong or this is a really big deal.
ROSE:
For months, Clara, and Jane, and a whole team of scientists analyzed this data, trying to figure out what else this signal could be.
Cardiff
You know, "Is the signal real? If it's real, is it really phosphine? And if it's phosphine, are there really no mechanisms to produce it without the intervention of life?" And these are still the uncertainties.
ROSE:
And since they published their paper, these uncertainties, these questions, they haven't really, totally been answered. Other teams have reanalyzed the data, and they say that by their analysis, there isn't phosphine in the atmosphere of Venus at all.
DR. MIKE WONG:
Some of the people in the fields have been trying to track this, and some of them have come to their own conclusions after reprocessing the data and are very skeptical about that absorption feature actually being there. Maybe it's just noise.
ROSE:
This is Dr. Mike Wong.
MIKE:
Most people call me Mike, but my academic name is Michael L. Wong, not to be confused with Michael H. Wong, who also studies planetary science and specifically planetary atmospheres. We get confused all the time. I am an astrobiologist at the University of Washington and my training is in planetary science.
ROSE:
Mike and his team are one of the groups taking another look at the Venus data, but their paper isn't out yet so he cannot reveal to me what exactly they found or what he thinks, just yet. But I do think it's fair to say that the jury is still out. Scientists still don't know if this is really phosphine. And even if it is, they aren't all agreed that it indicates life.
MIKE:
By reanalyzing this data set, some other scientists have come to the conclusion that actually maybe it's just SO2 and isn't actually phosphine, or maybe this detection of phosphine isn't at all linked to a region of Venus's atmosphere that could be habitable.
Some of the reanalyses have concluded that the phosphine, if it's truly phosphine, would need to be very high up in Venus's atmosphere, very far away from the cloud region, in which case it sort of makes it hard to attribute that phosphine to life.
ROSE:
And while this might seem kind of frustrating to people like, say, me, who want to know if it's possibly alien life on Venus, like right now, it is important to say that this is how science works. This is normal.
MIKE:
Honestly, even though Venus is the closest planet to Earth, we still don't know very much about it. It's almost, like, embarrassing to admit as a planetary scientist. But honestly, Venus is still a mystery to us.
ROSE (on call):
Maybe this is, like, a rude question, but if we can't even figure out if this on Venus, very close to us, is life, what chance do we have of finding life on an exoplanet?
MIKE:
That is not a rude question at all, because that is the question that I wake up worrying about every single morning. Oh, yes, that is really, really what worries me. Like you said, we can't even decide if this phosphine detection is, one, real, and two, really is phosphine, and three, if it came from life or if it came from something else. And Venus is the planet next door! It's like the planet… We've sent probes to it and we will never be able to send a probe to an exoplanet, at least within our lifetimes.
ROSE (Mono):
And what this phosphine thing also reveals, is that when we do look out to exoplanets far outside our solar system, we still don't quite know what we should even be looking for.
MOIYA:
There are a lot of people who complain to astronomers that we're too human-centric and that we're only looking for conditions that would work for us. And there are also a lot of astronomers who are trying to think outside the box and imagine what types of signals might be agnostic to the type of life you have as long as that life is intelligent.
ROSE:
Mike has his own solution for this issue of making sure that we are not being too narrow in what we consider life. This year, he published a paper arguing for a new concept: Lyfe.
MIKE:
Yeah, I've been pronouncing it "loif" just for the sake of distinction via audio.
ROSE:
The idea behind "loif" – lyfe with a y – is that we should broaden our definitions so we don't miss something because we're being too Earth-centric.
MIKE:
I bet when we go out there and we actually find what is on those other worlds, worlds that are very, you know, mysterious to us still to this day, we'll find lots of surprises.
ROSE:
So Mike's 'lyfe' consists of four different processes.
MIKE:
The generic processes that we outlined are: dissipation, autocatalysis, homeostasis, and learning.
ROSE:
Okay, what do those words mean? Dissipation means being able to harness energy somehow; you and I eat food, plants use the sun's rays, that kind of thing. Autocatalysis just means being able to reproduce somehow.
MIKE:
Homeostasis is sort of the opposite, in that life should be able to exert regulatory feedbacks to maintain itself.
ROSE:
And learning is… learning!
Using these parameters Mike hopes that they can avoid accidentally missing something really interesting because they are making assumptions about what life might look like. Other people have suggested that instead of looking for biology, we should be looking for technology.
MOIYA:
So, I mentioned biosignatures before, but there's also a growing field that's looking for techno signatures, signals of technology. One example that comes to mind is there was a paper a couple of years ago that was trying to identify alien civilizations by looking at the night side of the planet to see if there were city lights illuminating the night side, like if the night side was brighter than you expected it to be. So techno signatures maybe are more agnostic to the actual form of the life that would exist there.
ROSE:
Of course, techno signatures also make assumptions about what life might be like.
MICHAEL OMAN-REAGAN:
As some people have rightly pointed out, "advanced" could mean that you don't see the kind of technology we have on Earth. The kind of technology that is leading us to a global crisis in climate change, the kind of technology that leads us to artificial scarcity, hunger, war, that technology might actually not be advanced. And so when we talk about advanced technologies that might be more invisible, it might be technology that disappears into the environment and is less wasteful.
Karl Schroeder said, "Any sufficiently advanced technology is indistinguishable from Nature."
ROSE:
That's Michael Oman-Reagan, an anthropologist who studies human relations with outer space. And when we come back, we are going to get into these really complicated and thorny questions about how we actually look for life, whether aliens are looking for us, and what to do if either side makes contact. But first, a quick break.
ADVERTISEMENT: SKILLSHARE
Today's episode of Flash Forward is supported in part by Skillshare. Skillshare is an online learning community for creatives where millions come together to take the next step in their creative journey.
Sometimes in science fiction, you get these dystopias where nobody makes anything anymore, nobody creates art. But I think that's kind of silly, because creativity is, sort of, central to humanity. I think it's kind of impossible to get rid of it. Even in the darkest of times, like, say, a pandemic, people still feel that drive to make something, to be creative. Even in little, simple ways. And if you are looking to reignite that feeling, or to feed it, or develop it in some way, check out Skillshare.
Skillshare offers membership with meaning. With so much to explore, real projects to create, and the support of fellow creatives, Skillshare empowers you to accomplish real growth. They offer creative classes designed for real life and all the circumstances that come with it. These lessons can help you stay inspired, express yourself, and introduce you to a community of millions.
So maybe listening to Flash Forward has gotten you thinking about making your own podcast, for example. Well, there is a Skillshare class for that called Podcasting Secrets: How to Start Your Own Podcast, taught by Nicaila Matthews Okome.
Skillshare is curated specifically for learning, meaning that there are no ads and they're always launching new, premium classes, so you can stay focused and follow wherever your creativity takes you. And it's less than $10 a month with an annual subscription.
Explore your creativity at Skillshare.com/FlashForward and the first 1,000 people to use that link will get a free trial of Skillshare Premium Membership. That's Skillshare.com/FlashForward to get a free trial of Skillshare Premium. But act fast, because it is only for the first 1,000 people who sign up. Go to Skillshare.com/FlashForward for more on that.
ADVERTISEMENT: HINGSTON & OLSEN PUBLISHING
This episode is sponsored in part by Hingston & Olsen Publishing.
Climate change, a global pandemic, the new faces of fascism. By just about every metric, we are living through times that no one will soon forget. And who could've seen all of this coming? Well, science fiction writers, that's who.
Hingston & Olsen Publishing is proud to announce Projections, a deluxe box set of science fiction stories that each, in some way, predicted life in the present day.
Projections is edited and introduced by rare book dealer Rebecca Romney, and it includes stories gathered from across the genre's rich and diverse history. From writers like Mark Twain and J.G. Ballard to, of course, my very favorite, Octavia Butler.
Order your copy today from HingstonandOlsen.com/Projections and save 10% on your purchase when you enter the promo code FLASHFORWARD at checkout. That's HingstonandOlsen.com/Projections, which I know is a little hard to remember, and maybe you're like, "How do I spell that?" So don't worry. I will always put the links for all the ads in the show notes so you can go there, click on the link, and enter the promo code FLASHFORWARD at checkout for 10% off your purchase.
ADVERTISEMENT END
FICTION SKETCH BEGINS
[outdoors, raining]
DR. JAAD:
All right. Looks like everybody has the proper rain gear. Good to see that. We don't want anybody too soggy by the end of this. And while rain might be annoying, it's actually great for the creatures that we're setting off to try and visit.
Now, some of you might find it strange that I call mushrooms 'creatures', or talk about communicating with them, visiting them, and listening to them. Perhaps you've never considered fungi in that way. But they're living beings, just like you and I, with desires, and likes, and dislikes. In my community, we consider them just like the squirrels and the neighbor's kids. So, with that same spirit in mind, please don't disrupt any of the mushrooms you find. Don't pick anything without talking to me first. Generally, just keep your hands to yourself. Okay?
Right, let's begin.
[walking through the woods]
So first, a bit of background about the forest we're in right now. This is land formerly known as Tongass National Forest. In 2029 it was returned to the Indigenous people who have lived here for centuries and is now managed by a collective of Haida, Tsimshian, and Tlingit people. We maintain this incredible forest, which sustains us and our families, and are always excited to share our intimate love and knowledge of this place with visitors.
Many people are surprised to find such a rainy and green forest so far north in what some of you call Alaska. This forest's climate is perfect for all kinds of incredible relatives who live here; berries, trees, and the mushrooms that we're visiting today.
[continuing walking]
Ah, okay. Here we go, let's begin here. You see this lovely little specimen here, with the orange top and little white dots? This is a species called Amanita muscaria, perhaps our most iconic mushroom and one that you might have seen on t-shirts in various gift shops around here.
ALEX:
Excuse me?
DR. JAAD:
Yes?
ALEX:
Will you tell us which ones of these are edible and which ones are poisonous?
DR. JAAD:
Ah, well you see, all mushrooms are edible. Some of them just only once. (laughs) But you know, I'm glad you've asked. Since mushrooms often evolve to mimic one another, it can be very hard for someone who has just met these relations to tell the difference. So please, do not eat any mushrooms you find in the forest here. Not only are they not yours to take, but this simple introductory walk will certainly not train you to tell the difference between those which are poisonous, those which are not, and of course, those in-between which can be prepared to remove their toxins. So as a rule, I don't tell folks which ones are or are not poisonous, just to avoid any issues. Unless of course, you've already eaten one while I wasn't looking?
ALEX:
Uh, no, no I… didn't eat one. No.
DR. JAAD:
Good. Let's move along.
[continuing walking]
DR. JAAD:
Okay, here's a lovely little friend. You see this here? You'll have to kneel down to see it; they're small and delicate. Please don't get too close or disturb them too much. This beautiful purple growth here is what's called Alloclavaria purpurea. In your guidebook, it's likely called a purple fairy club. Now, these might look like and remind you of corals in a coral reef. In fact, for a while, scientists thought that perhaps they were related. But DNA work has shown that they're not! Isn't that fascinating?
ALEX:
Excuse me?
DR. JAAD:
Yes?
ALEX:
Um, what is this?
DR. JAAD:
I see someone has ignored instructions not to pick things.
Alex (quickly):
No, I didn't pick it! It… it… it fell out of a tree while I was walking.
DR. JADD (skeptical):
Hmm…
ALEX:
I swear! I really didn't pick it. It fell right in front of my foot and then I… thought it started moving?
DR. JAAD (quietly examining):
How interesting indeed. I haven't seen a relation like this before. A bit like the crested coral… Again, not related to coral at all, but with some key differences.
(squishy, squirmy movement)
OH!
ALEX:
See! I told you!
DR. JAAD:
Interesting! I'm a fungal expert, and this is not a fungal relation. But perhaps Haven knows this. If it is an insect, she would recognize it. The forest here is full of surprises! Let us return this new friend to where we found her. I will return with Haven later and see if she wants to meet us again.
ALEX:
Shouldn't we… take it – her, sorry – with us? To identify? What if she's a new species never before seen? What if you can't find her again when you come back?
DR. JAAD:
If she wishes to be known to us when we return, I'm sure she'll make herself clear.
ALEX:
What will you name her, if she's a new species?
DR. JAAD:
That won't be up to me. We'll have a conversation about it with the community. Has everybody gotten a good look at this lovely little friend? Great. Let's move on, shall we?
(most people walk away, Alex stops and kneels down in front of the creature)
ALEX (whispering gently):
Hello. (laughs quietly) What are you? Why am I talking to you like this? Are you really a bug? You don't look like a bug to me. What if you really are something totally new? It feels… ridiculous to leave you here and maybe never seen you again. How about you come with me, okay?
(rustling in coat pockets, zippers as the visitor puts the creature in their pocket)
(Alex walks back to meet up with the group)
(news report jingle)
JOURNALIST:
A story stranger than fiction: A visitor on a nature walk in Alaska has uncovered proof of alien life. Alex Jenkins was on an educational mushroom walk with a local guide when the creature dropped out of a tree in front of them. When the guide could not identify the specimen, Alex decided to take it with them and see if scientists at a nearby university could. Little did they know that the creature wasn't just unknown to science, but quite literally out of this world.
The local Indigenous leaders swiftly called for the return of the creature, which was taken off their land without permission. Unfortunately, removed from the habitat that it was found in, the creature didn't survive for very long. What Alex didn't know was that their guide on that walk was in fact the world's premier xenobiologist. Here at KINY, we're reuniting Alex Jenkins with Dr. Jaad for the first time since that walk. Welcome to the program, both of you.
DR. JAAD:
Thank you for having me.
ALEX:
Happy to be here.
JOURNALIST:
Dr. Jaad, can you tell us a little bit more about what we know about the specimen Alex found?
DR. JAAD:
Certainly, I'd first like to note that from our point of view, the life form found Alex, not the other way around. I'd also like to remind listeners that we might know a lot more about this new relation had Mr. Jenkins not secretly removed it from the land after being explicitly told not to. Now, to answer your question–
ALEX:
I didn't know it would die!
DR. JAAD:
Were you not explicitly told not to take things from the forest?
ALEX (sheepishly):
Sure but, I mean, come on. These are unusual circumstances. It's not like finding a rock or something? It was an alien! I mean, I didn't know that… but I feel like I'm being painted unfairly here, okay?
DR. JAAD:
There is importance and life in every creature, and each should be treated with respect and care. Now, to answer Ms. Leigh's question about what we know of the life form…
JOURNALIST:
Actually, before we get into that, I want to stay on this topic for just a moment… Alex do you have any regrets?
ALEX:
For taking it?
JOURNALIST:
Yes.
ALEX:
Well no. I mean, obviously I didn't think it would die. I didn't even think it was an alien! I just thought maybe I could name it if it was a new bug or something.
JOURNALIST:
Would you have done anything differently if you could do it again?
ALEX:
Now that I know it was an alien?
REPORTER:
Yes.
ALEX:
I mean… if I'm honest, no. If I had known it was an alien I would have definitely taken it. I'm the guy who found the first alien life! Me! Alex Jenkins! I'm going to be in history books.
DR. JAAD:
I'd like to clarify that in fact you are not, in fact, the first to find alien life, Mr. Jenkins. Our lab has been working on the publication of several papers describing a handful of life forms who have moved into the forest in the last few months.
ALEX:
Wait… So you've had evidence of alien life and you didn't tell anybody?!
DR. JAAD:
Incorrect. We told our colleagues in the field and informed the US government and SETI as per protocol, and were, as I mentioned, working on several collaborations to document and verify our findings in accordance with proper scientific work.
REPORTER:
Dr. Jaad, if I may, what does this all mean for… us? Does this mean that alien life had landed on Earth?
DR. JAAD:
That seems to be the case. However, I want to stress that we're still in the process of understanding the details. There are many theories in our field, even within our own lab, about when these life forms arrived, how they arrived, from where, how they live. As you might expect with a truly alien life form, their bodies and biology are mysterious to us and will take us time to understand.
ALEX:
I didn't find aliens first, though?
DR. JAAD:
No, Mr. Jenkins.
FICTION SKETCH END
ROSE:
Okay, so let's first consider what would happen if we found aliens. Either here on Earth, or out in the galaxy.
MICHAEL:
So, to think about how we might approach contacting life or intelligence from a scientific perspective, or an anthropological perspective, or a human perspective, I think it's really interesting to think about this story that I came across of this purple orb that was discovered in the ocean.
ROSE:
That's Michael Oman Reagan again.
MICHAEL:
It was in 2016 when scientists on the exploration vessel Nautilus were doing research in the deep ocean with a remotely operated vehicle called Hercules. And they found something very unexpected.
[clip of Nautilus crew as they find the purple orb, various voices:
"Oh, what is that?" "I don't know what that is." "I have no idea what that is." "Could that be a salp, or a type of a tunicate? I'm just thinking of the planktonic kind that are, sort of, lumpy and thick like that." "I'm stumped. I have no idea. I can't even hazard a guess to phyla." "Purple…"]
MICHAEL:
There was a mysterious purple orb that appeared to be some kind of undocumented object or life form. They didn't have any idea what it was.
[Nautilus crew: "Oh no! Come on, buddy." "What if it's an egg sac of some sort?" "It could be" "Because it's got a little embryo-type thing inside." "Maybe it's a spider egg sac." "Let's leave it, then. We don't want to mess with spider egg sacs."]
MICHAEL:
So the researchers on board the Nautilus who were controlling the robot down below in the ocean used the robot to vacuum up this purple orb that they found. And then they took it from its environment and brought it back to the surface. So when I think about this encounter, I think of two questions. Is this the most effective way to study something unknown that we come across? And is it also how we really want to interact with something for the first time?
ROSE:
Listener, I have to confess that I am really glad that Michael brought up the purple orb, because I have, for many years, actually been somewhat obsessed with the purple orb as well. I will post pictures of the orb on the blog and on our social media, but for now I just need you to believe me that it is incredibly beautiful. It is this strikingly purple, translucent orb, and it has these little lumps on it, and it looks like maybe there's some sort of solid center. It's just… amazing. It's amazing to look at and humans had never seen anything like it before.
And we sucked it up, and we killed it.
Now, the purple orb is not an alien. It's probably a never-before-seen or described species of snail, is the current thinking. But Michael says this story can help us think a little bit about what we should be doing when we do encounter something that could be alien life.
MICHAEL:
I think we could think about this differently, hopefully, and take a different approach so that we change how we think about contact. And this could help build a kind of different future for science and technology without as much of the historical violence that's often embedded in exploration. And this kind of leads me to what I call a 'radical first contact approach'.
Approaching any encounter we have with life as though it's also a potential intelligence, or a potential culture, or just a person that we might communicate with and who might deserve our moral consideration. Contact without harm.
ROSE:
Michael spends a lot of time thinking about how we might make this kind of radical first contact, a contact that centers around respect and care.
MICHAEL:
So what would an instrument look like that we use to study something when we're not trying to extract from it, but learn about it, learn with it, collaboratively, without harming it? So what would contact really look like if our primary concern was avoiding harm? Isn't that also what we would want if someone were making contact with us?
ROSE:
Now, unfortunately, we probably won't find alien life in the form of an incredibly amazing purple blob in the ocean. Instead, we would probably find it some other way. Maybe by radio telescope sending a signal or receiving a signal. Or maybe by looking at exoplanets.
Astronomers like Moiya spend a lot of time trying to figure out which planets, and even which regions of the universe, are most likely to have the right conditions for life.
MOIYA:
My thesis research is actually looking for the galactic habitable zone, the place in the galaxy where habitable planets are most likely to form.
You want to be far away from a star that could go supernova because those emit a lot of really dangerous radiation that could totally ruin our atmosphere and kill us all if it was close enough. You want to be away from, just, dense areas of stars in general because stars themselves give off a lot of radiation. You don't want to be too close to the center of the galaxy.
ROSE:
Turns out, the center of the galaxy is like a raging star mosh pit.
MOIYA:
That's exactly what it is! It's so dangerous! There are definitely stars that are crowd surfing through the center of the galaxy.
ROSE:
Very metal, very cool. Not great for life.
It's also reassuring to know that Earth is indeed in this habitable donut region of the galaxy. And having these criteria can help scientists figure out where to look for life. And when we do find an exoplanet that looks promising, we do all this interesting stuff to see if maybe, possibly, has the conditions for life.
So let's think about what would happen if we actually did find it? If scientists could say, pretty conclusively for whatever reason that "Yep, this is life! Living stuff!"
MICHAEL:
So imagine, for example, we encounter a form of life in an ocean, perhaps an ocean under the icy surface of a planet or moon elsewhere in the universe. And instead of extracting it and taking it, or sampling it, or harming it, we leave a very small drone next to it that follows it and watches it. And so you could think about the way technology might enable us to actually learn more through non-extractive and nondestructive methods, because if you could keep a safe distance and follow a life form and watch it, then you might actually learn an enormous amount about how it interacts with other life, how it interacts with its environment, what its lifecycle is like, much more than you could learn from taking its body and then trying to cut it up or destroy it.
ROSE:
But what about the announcement? How will you and I, regular people who are not scientists, find out that we really have found aliens? Well, it's hard to say. There is an official SETI protocol that was first adopted in 1989 by the International Academy of Astronautics.
DR. KATHRYN DENNING:
There was a point, quite early on because this was during the Cold War, a sense that there had to be a pact, a discussion, an agreement that if either side found something, they would share the data. And so that's where the SETI protocols come from.
ROSE:
This is Dr. Kathryn Denning, an anthropologist at York University who works with SETI.
So during the Cold War, researchers came together and said, "Look, if either of us finds something, we really should tell each other and come up with some kind of protocol for what happens next."
KATHRYN:
So the idea for a long time was just, like, you could verify, you could keep it quiet between observatories while you were doing your verification work. Then you'd inform the heads of governments and the United Nations and then you would tell the world.
ROSE:
And those are the foundations of the terms that are still agreed upon to this day. But a lot of folks, including people who work with SETI, like Kathryn, say that this is kind of outdated.
KATHRYN:
They are rooted in a different time. So, they were formulated decades ago before the internet, and you know, when the main method of communication would be telegram, before instant news was kind of unfolding all the time, before peer-to-peer communication was unfolding the way that it is now.
I think also in the early days, there was the idea that, "Okay, well you'd have your interview with The New York Times and then, there you go," so the news would be out, the information would be replicated accurately and faithfully. But now the questions and the preoccupations are really different just because of the way that information and misinformation moves in the world. And unfortunately, misinformation moves faster and sticks around longer.
ROSE:
And this is something that worries people like Kathryn. How do you make sure that the news is actually communicated accurately? How do you make sure that it's not overblown or spun into some kind of conspiracy theory?
The big thing, the main thing you should know, really, is that if any scientist found evidence of alien life… they would almost certainly not keep it a secret.
MOIYA:
I really need to tell you, like, astronomers are so bad at keeping secrets. The Venus discovery that was, you know, embargoed and people weren't allowed to talk about it. I knew about it four days in advance. There are so many embargoed pieces of information that get spread through the astronomy community before the information is supposed to be released. We're horrible at keeping secrets.
If you talk to an astronomer and they said, "Oh, I don't care about aliens," they would be lying; because every single astronomer who studies exoplanets knows that if they do find aliens, that's an automatic Nobel Prize. No one's passing that up! So yeah, it's always in the back of our minds.
ROSE:
But how, exactly, word would get out, and in what way, and how it would ripple around… that is all really hard to say. When I asked Kathryn what would happen if we found aliens, she dismantled the question entirely.
KATHRYN:
Who is 'we'? There's something that happens when we talk about aliens in that it really provokes this, kind of, turn of phrase where suddenly humanity is all one. It's 'we're and it's 'they', and humanity just doesn't work that way. I don't care what kind of aliens turn up. We are not just one 'we', right? And that's important both for reaction and also in terms of the type of discovery.
So, where are the scientists who've made this discovery? Is it, in fact, full-time professional scientists? Are they avocational researchers? Is it evidence that somebody, kind of, stumbles across? Is it an astronomer? Is it somebody going through data archives? Is a data scientist? Is it a biologist looking at DNA sequences and going, "What?!" So, you know, who is 'we'? Because that dictates something about what the form of the discovery is.
ROSE:
We don't know how this might happen, and we don't know what alien life might look like. We don't know how we might communicate with them. We don't know anything, really, about aliens. And given all of this uncertainty, Kathryn says that over the years she's actually changed her mind about how we might want to prepare for contact. She used to think that scientists might want to come up with possible rules or parameters to look for and then work from there.
KATHRYN:
So I thought, "If we want to think about the diversity of potential life elsewhere, you know, obviously one way to work at that is to work from the diversity here."
ROSE:
But over the years, she says she's actually kind of changed her thinking on this.
KATHRYN:
I've come to the conclusion that we should just hold open that space and just say, "Look, alien is alien." (laughs) It may be out there, may not be out there. Might find it, might not find it. Might encounter it or not encounter it. Might only have very distant murmurings of it. But our knowledge is hopelessly fractional about that, so let's work our side of the equation.
So for example, we have problems with, you know, accurately spreading information. We have problems with information being worked to suit political agendas. We have histories of xenophobia and nastiness. How about we focus on our side? So that's kind of what I have been doing lately.
ROSE:
So instead of trying to come up with every possible life form aliens could take, maybe what we should be doing is looking around at whether or not Earth, humans, are ready for contact. Are we ready to fight the fake news that will almost certainly crop up around a discovery of alien life? How can we get more ready, get our house in order, so that if we do find them we're prepared for it on our end?
Those are all big questions that nobody really has the answer to. But what if the aliens found us first? That is what we will consider when we come back. First, a quick break.
ADVERTISEMENT: BRAVE NEW PLANET
Hey listeners. Rose here, and I want to just take a second to recommend another show that I think you might like. It's called Brave New Planet, and it weighs the pros and cons of a wide range of powerful innovations in science and technology.
It's hosted by Dr. Eric Lander, who directs the Broad Institute of MIT and Harvard. He guides listeners through hard questions like, "Should we alter the Earth's atmosphere to prevent climate change?" and, "Can truth and democracy survive the impact of deepfakes?"
If you liked the Flash Forward episodes that we've done about those topics, check out Brave New Planet for another look at them. To get the world we want, we'll need to make wise choices, so join Dr. Lander as he and his guests grapple with opportunities and challenges that are too big to fit in a tweet but will shape our future. Utopia or Dystopia: it's up to us.
Subscribe to Brave New Planet from Pushkin Industries on Apple Podcasts.
ADVERTISEMENT END
ADVERTISEMENT: KNOWABLE
What do NBA All-Star Chris Paul, NASA commander Scott Kelly, and super smart podcaster Kristen Meinzer have in common? They all have incredible experiences, and they have taken those experiences and crafted audio courses to teach you what they have learned. Those audio courses are on Knowable, which is a new app where the world's top experts teach new skills in bite-sized audio courses.
It's sort of like someone took a podcast, added audiobook, and put them in, like, a pressure cooker, and then stood back and released that pressure with a totally normal and not-terrified facial expression, and what they got were little snippets of pure, distilled learning.
NASA commander Scott Kelly teaches lessons learned from a career in space. NBA All-Star Chris Paul discusses the performance benefits of his plant-based lifestyle. And podcaster Kristen Meinzer tells you everything she has learned about how to be happier from years of research.
Knowable is accessible on your phone and on the web, and each audio course is broken out into individual lessons, usually about 15 minutes long. You can explore at your own pace, and each class is supported by downloadable materials, lessons, recipes, and more. I know that you like learning, okay? You don't have to lie to me. We are friends, sort of. And this is a place where learning is cool and good, and you can do it on Knowable.
So are you ready to learn something new today? You can download the Knowable app or visit Knowable.fyi and use the code FLASHFORWARD for an additional 20% off.
ADVERTISEMENT END
FICTION SKETCH BEGINS
[ambient spaceship sounds]
ALIEN 1:
Hey… can you look at this?
ALIEN 2:
Can I finish eating first?
ALIEN 1:
What even is that?
ALIEN 2:
Leftovers.
ALIEN 1:
Leftovers of what?
ALIEN 2:
Wow! Somebody's nosy! What do you need?
ALIEN 1:
This signal looks weird.
ALIEN 2:
Oh, here we go again.
ALIEN 1:
Come on. This is literally our job.
ALIEN 2:
It's never aliens, dude! That's the whole thing. We're out here in the middle of nowhere and it's never aliens.
ALIEN 1:
Can you at least look?
ALIEN 2:
Fine.
ALIEN 1:
Here. [key tapping] This one. That's a lot of heat for a planet that isn't supposed to have that much. According to this, we checked in on this planet about 3 billion years ago, and it looked totally different.
ALIEN 2:
Could be volcanoes.
ALIEN 1:
No. The atmosphere isn't ashy, we'd be able to read that. It's like the planet is cooking itself somehow.
ALIEN 2:
Hydrothermal vents?
ALIEN 1:
Maybe. There's a lot of water but most of the heat signatures are coming from land.
ALIEN 2:
Fires?
ALIEN 1:
There definitely are some, but not enough for the sustained global heating we're seeing.
ALIEN 2:
Methane seeps?
ALIEN 1:
That's the most likely, as far as I can tell. But this planet didn't have any of those when we checked in last. And those things don't tend to just show up out of nowhere.
ALIEN 2:
So you think that there's life, on this planet, that has started cooking itself somehow?
ALIEN 1:
I mean, I don't know…
ALIEN 2:
(laughs) Life that arose, and got powerful enough to change the planet, and decided that it would try and destroy itself?
ALIEN 1:
When you put it that way…
ALIEN 2:
(still laughing at itself) Just all got together and was like, "Hey, I know! With all this power we have, and planetary reach, let's see how bad we can make the conditions for ourselves! That would be fun!"
ALIEN 1 (annoyed):
Okay, thanks for your help.
ALIEN 2 (rolling its eyes):
If you're so interested send a probe. That will make it look like we're doing something at least.
ALIEN 1:
Well one of us is doing something.
[key tapping]
COMPUTER:
Please verify probe destination.
[key tapping]
COMPUTER:
Sending probe.
Loading video feed. Stand by.
[beep]
Video feed prepared.
[Los Angeles traffic, engines revving, horns honking]
ALIEN 2:
Whoa! What is that?
ALIEN 1 (smug):
I told you.
ALIEN 2:
So they really are cooking themselves down there, huh…
FICTION SKETCH END
ROSE:
Okay, so humans have sent a handful of messages out into the galaxy hoping that intelligent life out there will hear them.
JAIME GREEN:
There are lots of transmissions that, sort of, leak out of the Earth; television, radio waves, radar. It leaks out, and so that could be detected, which is very often, you know, what we see happening in stories about aliens finding us. Like in Contact, they got the first TV transmission ever and that's how they knew we were here and that they could contact us.
ROSE:
This is Jaime Green, a writer and editor working on a book about aliens. On top of our constant informational leakage, we have also sent specific messages. The Arecibo message, and probably most famously, the Golden Record. But what you might now realize is that there actually aren't any rules about who is allowed to try and contact aliens.
JAIME GREEN:
One of the interesting things in this area, which is called often called METI, for Messaging, Extra-Terrestrial Intelligence, the deliberate sending of messages, is that it's totally unregulated and people go kind of rogue with it and decide that they want to send a message which is potentially representing the entire planet.
[Tina from Bob's Burgers, writing a letter to aliens:]
"Wow. Man, I don't know what to write. A lot of pressure. Let's see… Uh… What's shakin' bacon? Oh, they might not know what bacon is. It's from adorable animals called pigs. They're pink. We kill them. Take out their bacon… and eat it. We won't kill YOU though…" (chuckle)
Tina's friend: "Why don't I type?"
Tina: "No, no. I got it. Greeting from Earth?
Tina's friend: "Yeah."
Tina: And then XOXO?
Tina's friend: "… sure."
Tina: "And… send."
ROSE:
Now, some people have in the past argued that we should not send messages out into the universe. There are a few reasons they argue this, some of which are legit, in my opinion. Like, who gets to decide what message that humans are sending? Since the potential consequences of that message could impact literally every human, shouldn't more people have a say in what we are sending out?
Other people have argued that we shouldn't send messages out, because, I mean, come on… You've seen the sci-fi movies. Any alien that receives our message is definitely going to just come here and kill us, right?
MICHAEL:
I think there's a mistake in believing that life elsewhere in the universe will be like us. There's also a mistake in believing that life elsewhere in the universe will be hostile or their interests will be domination, or colonization, or control, or extraction.
ROSE:
And here's the thing, if aliens are out there and they're advanced enough to get and decode the messages we send, chances are they already know that we're here.
JAIME:
I think if anyone has the power to come get us, and to kill us, and eat us up, and steal our water or whatever, then they have the ability to know that we're here.
CLARA:
The idea that an advanced civilization would be exclusively reliant on radio and wouldn't notice that there are billions of life forms on Earth who are breathing every day, farting every day, just releasing this cacophony of molecular sounds and they wouldn't hear that? It's preposterous.
ROSE:
This idea that aliens will, of course, overpower us, is really common specifically in Western popular culture. And there's a reason for that.
MOIYA:
We have so deeply embedded in our culture, here in the US, the idea of colonization. And I think of colonization as exploration but with the added idea that you own what you find. And I think here in the US we have a hard time separating those ideas. So we assume that if aliens do find us, one, if they make contact with us first, we know they're going to be more technologically advanced than we are because they, you know, have the technology to travel through space and to find us first. So that makes them scary.
ROSE:
That's Moiya McTier again. Remember on the Landback episode when we talked about the fears that if Indigenous people get land back they're going to turn around and subjugate settlers? And how all the Indigenous people on the episode were like, "Yeah, no, that's your thing. That's not really our thing."? It's kind of the same idea.
In fact, some anthropologists like Kathryn argue that using Earth's historical precedent for alien contact doesn't really make sense.
KATHRYN:
So usually what people have suggested is that, "Well, it turned out that way because the Old World was technologically superior to the New World and that's exactly what aliens would do to Earth. It's like, "Well, that's not what happens."
People like Cortés and Columbus didn't conquer the new world because they were smarter or had better technology. Indigenous folks actually had extensive road systems and agricultural technologies; they just didn't look the same way that European systems did. They were much more integrated with the landscape and wildlife so colonists didn't always recognize that they were even there.
KATHRYN:
So my objection to those kinds of analogies is that they actually, you know… They falsify history. They don't do so intentionally, and you know, generally, it's a well-intentioned warning about "don't trust the aliens," right? And I can take that on board, that's fine, but it's just… Why do you need to talk about Earth history in order to do that? Can you not just say, "Well, if the aliens are smart enough that they found us and/or they have spaceships, then maybe we should be careful." I mean, you don't need to talk about Cortés and the Aztecs to have that conversation, so just leave them out. It doesn't help.
ROSE:
Now, Michael actually thinks that it's totally possible that aliens have found us and they just decided not to say hi.
MICHAEL:
It's probably the case, I think, that there's life elsewhere in the universe that has been around a lot longer than we have, and that they have looked, and that they have found other life, including us, and they're just choosing not to contact us.
ROSE (on call):
That's so sad! Does that make you feel sad?
MICHAEL:
The idea that they're choosing not to contact us doesn't make me sad, because I think, if anything, it would be simply because they see us the way that we see a lot of other life on Earth. We build enormous distinctions between ourselves as a species and the life all around us. But from the perspective of a life form elsewhere in the universe that's been around much longer than we have, all the life on Earth might look very similar. It might just appear to be a kind of biological film on the planet that has some minor variations, but nothing too complicated.
Or we can also imagine a situation in which life elsewhere in the universe looks at Earth and decides that humans are not the most interesting species to make contact with. I don't think that's necessarily happened, but it could happen. There's a great Far Side cartoon where a man is on a desert island and a UFO appears, and he thinks he's going to be rescued, but it rescues the tree next to him because it's a UFO full of trees. I love that cartoon.
[clip of song from The Hitchhiker's Guide to the Galaxy:]
So long and thanks for all the fish
So sad that it should come to this
We tried to warn you all but oh dear?
You may not share our intellect
Which might explain your disrespect
For all the natural wonders that
Grow around you
So long, so long and thanks
For all the fish
ROSE (Mono):
Okay, so let's say that aliens do find us and they decide that we humans are worth a conversation. How would we even talk to them?
MICHAEL:
The hope of communication is no greater than the hope of communication that we have today with other life on Earth. We haven't yet had a conversation with a whale. And if we can't do that, the chances of communicating with extraterrestrial intelligence are, you know, slim.
ROSE:
And even then, even if we could communicate with them, it would likely be time delayed by a lot.
JAIME:
If the aliens are 50 lightyears away and we receive a message from them, and then we send a message, we're not going to get a response within a person's lifetime.
ROSE:
And this is a super interesting question. How do you maintain a constant game of telephone over hundreds or maybe even thousands of years? This is a challenge not just for alien contact, but even for humans here on Earth. About 40 years ago, the US Department of Energy convened a group of anthropologists, linguists, sociologists and more to try and figure out how to communicate a message 10,000 years into the future here on Earth. The message they wanted to convey was: stay away from Yucca Mountain. Because beneath the mountain, the department plans to bury nuclear waste. This plan is hotly contested and we do not have time to talk about that part, but the Department of Energy realized that this potential waste under the mountain will be dangerous and radioactive for hundreds of thousands of years. Longer than modern humans have been on Earth. How do you make sure future, future, future, future humans don't go there?
JAIME:
One of my favorite ideas that was brainstormed but that did not get adopted was the creation of a sect of atomic priests who would transmit this knowledge from generation to generation within themselves; this would be their sacred duty to let the knowledge develop with them as culture developed so that they were capable of communicating to the broader populace the importance of not going and investigating in this site and digging into whatever was stored there.
ROSE:
And Jaime wonders if maybe this idea could be applied to communications with aliens too.
JAIME:
It becomes this through-line of humanity, almost the way that comets recur, but instead of Halley's Comet coming back, it's, "Oh, next year we might receive a message," and the scholars brush up on the last message, and they get together and get their receivers ready. And you don't know exactly when it's going to come. So for the next year or two, every telescope on Earth is pointed in the direction and is listening and then the message comes. And maybe it takes decades or centuries to be decoded and for a response to be come up with. So that feels a lot like the atomic priesthood of transmitting information from generation to generation rather than any kind of conversation.
ROSE:
What if instead of sending messages back and forth over hundreds or thousands of years, the aliens actually land here and we try to host them? We should probably be thinking about how to be good hosts.
MICHAEL:
I think the key to being a good host starts, certainly, with wondering what we might want ourselves. Not specifically what we might want, because I might want an oxygen-rich atmosphere and another life form might want a methane-rich atmosphere or something else. But thinking that I would like an atmosphere and I would like the things that are required for my body to function.
ROSE:
One of the things that I think is really interesting about aliens is that thinking about how we could and should communicate and interact with them reveals a lot about how we might want to change our interactions with each other here on Earth, too. What would we say to aliens? Would we be nice to them? Welcome them in? Help them out in some way? Listen to them? Try and make them comfortable? I would hope so, and I think we would all probably hope that they would do the same if we contacted them. And perhaps we can extend that generosity to non-alien life too.
MICHAEL:
If you imagine a life form somewhere in the universe that has the ability to watch us, they're going to see not only the message that we send on purpose, the transmissions of pictures of flowers or beautiful music. They're going to see the hunger, and the borders that we enforce with violence, and they'll see the artificial scarcity of our economic systems, and they'll see war, and they'll see weapons. They'll see all of that. So in some ways, the message that we're sending to life elsewhere in the universe is how we live every day. Every choice we make is a message to extraterrestrial intelligence.
[Flash Forward closing music begins – a snapping, synthy piece]
Flash Forward is hosted by me, Rose Eveleth, and produced by Julia Llinas Goodman. The intro music is by Asura and the outro music is by Hussalonia. The episode art is by Matt Lubchansky.
Dr. Jaad was played by Johnnie Jae. Alex was played by Keith Houston. The radio reporter was played by Ashley Kellem. Alien 1 was played by Henry Alexander Kelly, and Alien 2 was played by Brett Tubbs. You can find out more about all of their work in the show notes. And please do check it out. They're all awesome.
If you want to suggest a future that we should take on for next season, you can send a note on Twitter, Facebook, or by email at Info@FlashForwardPod.com. We do love hearing your ideas. If you think you have spotted one of the little references that I've hidden in this episode, you can email me there too. If you are right, I will send you something cool.
If you want to discuss this episode, some other episode, or just the future in general, you can join the Facebook group! Just search Flash Forward Podcast and ask to join. There is one question you have to answer. It's very easy. You just have to answer it and then you get in.
If you want to support the show, there are a couple of ways that you can do that too. Head to FlashForwardPod.com/Support for more about how to give. Different levels of donation get you different stuff, like a bonus podcast, a book club, and even a goodie bag in the mail. And on this week's bonus podcast, there is so much stuff to talk about. Everybody that I talked to said such interesting things. And I asked every guest what their favorite piece of alien sci-fi is, so you'll hear those answers as well.
If financial donations are not in the cards for you, you can still help out the show. Head to Apple Podcasts and leave a nice review, or just tell a friend about the show. That really does help.
That's all for this future. Come back next time and we'll travel to a new one.
[music fades out]