Hello!
Rose here, with a long winded update about the ~~future~~ of this here podcast about the future. This is a little long, but I tried to bold the stuff that's important, and put the logistics higher up. The blubbering comes at the bottom, if blubbering is your kind of thing. But first: the business.
Today we released the first episode in our four part ROBOTS mini-season finale! I'm really excited for these episodes, and I hope you like them.
They will be the last Flash Forward episodes for a while.
They will also be the last Flash Forward episodes ever in the style of the show you've come to know and love over the last seven (!!) years. It's been an amazing ride, and I'm so proud of the over 150 (!!!!) episodes that we've made. And/but it's time for something new.
So what happens next?
First, I'm going to take a break. I've been making this show basically non-stop for seven years. Bringing Julia Llinas Goodman in was an amazing step and has really helped (and frankly kept the show alive for an additional year and a half) but we're still just a team of two people trying to make a very ambitious show every other week. Making it work as an indie podcaster has only gotten harder since I started Flash Forward. And I've only been able to continue making the show at all thanks to the support of Patrons & Time Travelers! (And the help of Amanda McLoughlin at Multitude who handles ad sales for the show.) But it's time to regroup, rest, and reconsider the future of the podcast.
After that, Flash Forward will return, but in a pretty different format than you're used to. Instead of doing a new future every other week, we're going to try and create between two and four BIG special projects for you that will drop throughout the year. Those might be deep investigations into some big topic, or a narrative series about someone trying to make a better future, or a fully fiction based series, or something we haven't even thought of yet. The point is that Julia and I are going to try and take some big swings that are more ambitious, weirder, and bigger than any one episode can be.
I'm really excited (and terrified) for this new era of Flash Forward. But it's the right move, and the right time to do it.
To celebrate the end of Flash Forward 1.0, I'm organizing a very special online event. It's going to be weird, wonderful, and surprising. Some past guests will be there! Some special surprises will happen! Want to join us? Put your email below and you'll get the invite (along with future updates about Flash Forward).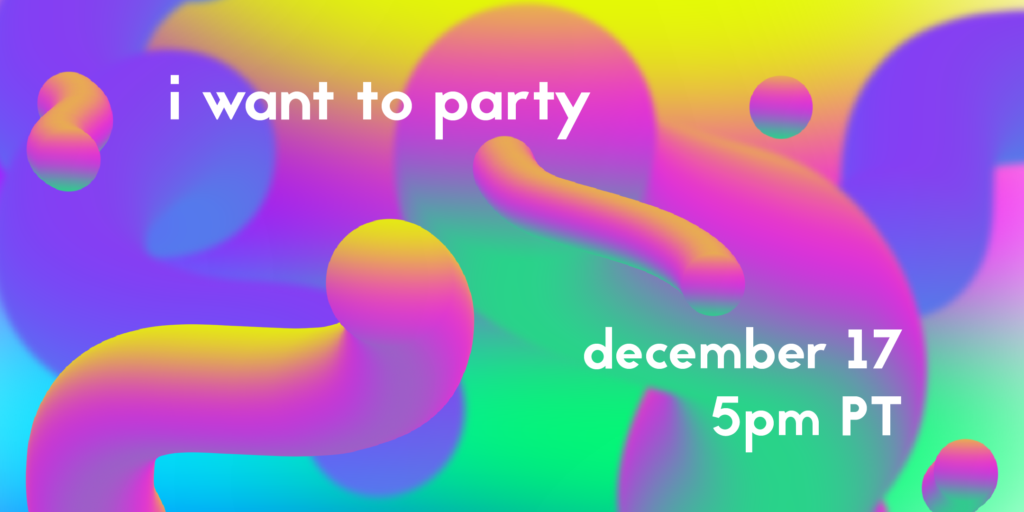 ---
Okay, those are the logistical things to know.
Now on to the blubbering I promised.
When I first started Flash Forward (neé Meanwhile in the Future) at Gizmodo, I didn't have some grand plan for a future facing media empire. I didn't even really have plans for a second season. And I definitely didn't have plan to create an independent podcast.
In fact, when Gizmodo didn't renew the show for a second season, I put on my business pants and traipsed around Manhattan, meeting with fancy people at fancy publications and podcast houses, hoping that someone would buy the show. I drank a lot of free sparkling water, and while everybody was very nice, nobody had any interest in the podcast. One exec told me that there was no real chance I could make Flash Forward successful, so I should come work as a producer on their science podcast instead. Another told me I didn't have "host magic" and that I should try to find a celebrity to host the show. Everybody else smiled, and nodded, and told me it just wasn't a fit.
I recently found the spreadsheet I kept of all my meetings from that time. Here's the complete list:
Radiotopia
NPR
Gimlet
Fusion
The Verge
BuzzFeed
Gizmodo
Motherboard
Audible
Panoply
WIRED
Slate
New York Times
They all said no. I eventually made a deal with Boing Boing to post the show on their website every episode, and with Acast to handle ad sales. But the real reason the show even had a season two was support on Patreon.
Flash Forward might be critically acclaimed, but the reality is that it's not super popular. For many years I thought that if I just worked hard enough, if I did enough cross promos with big shows, if I consistently put out a good podcast, I would eventually get enough listeners to draw the attention and respect of those publications that turned me down. That never happened. It's never going to. And that's okay! But it also means that in its current form, in the current podcasting landscape, Flash Forward will likely never make any more money than it does today.
I didn't get into podcasting to get rich, but I know that the show could be so much better if we had either a little bit more time, or a little bit more money to play with. And, for better or for worse, I'm not the kind of person who is capable of sitting back and enjoying a stable, good thing, when I think something better could be possible. I'm not sure where to get more money from, but I do know how to get more time. Which brings us to today, and to this shift. I think there's so much more to do with this idea of fiction and journalism, of imagining better futures in innovative ways, and of audio storytelling. And I want to try it! That's what this next phase of Flash Forward is going to be all about.
The new Flash Forward isn't going to be everybody's thing. Some of you will probably be sad, or disappointed, or not like whatever we do next year. And that's okay. No matter what, it's important that you know that I will forever be grateful for the support you all have offered up to Flash Forward over these last seven years. It's because of you that I can even dream bigger than what we're doing now.
I can't really put into words how grateful I am that you all have stuck withe me and Julia for all this time — that you've contributed your hard earned dollars every month to support this podcast. It really means the world to me.
I'm absolutely terrified to let go of Flash Forward 1.0. But I'm also really, really excited about what Flash Forward 2.0 could be. I hope you are too.
✨ Rose
p.s. If you want to become a Patron and support whatever comes next for Flash Forward, you can do that here.